(Click on the white dots at the bottom of the photos to see more views of the two beautiful quilts.)
"Let love and kindness be the motivation behind all that you do." (I Corinthians 16:14 TPT)
This verse sums up the hearts of the members of the Raincross Quilt Guild (RQG).
I had been a member of the RQG for only a few years before leaving for Uganda, but they showered me with love in the form of hugs, scissors, thread, needles, pins, and money to purchase treadle sewing machines. They embraced the people of Uganda too, watching for updates on my blog and emails.

When Jeff and I returned for a temporary, yet unexpectedly long, stay in Riverside due to the pandemic, the Guild members were very concerned about the well-being of the people we had left behind. Wonderful ladies put their time and talents into creating what can only be described as stunning artwork. Many members contributed by piecing together Ugandan fabrics into blocks using the "African Queen" pattern. Out of this labor of love representing kindness for people on the other side of the world, two quilts were made.

The Raincross Quilt Guild is inviting people to make a donation for the opportunity to own one of these gorgeous works of art. All money donated will be sent to the people of Uganda who are currently struggling with hunger for the purchase of tools, seeds, and other gardening supplies. This will allow families to become self-reliant for food.

Jeff and I are continuously amazed by the kindhearted people in the US who want to help out in Uganda. Members of the guild have been so supportive by making these quilts, and we hope that many others who read our blog are able to support this project in two ways. The first is to donate for an opportunity to own one of these 2 beautiful quilts. Donations can be as little as $1.

The second way you can help is to assist us in getting the word out to as many people as possible. Please help by linking this post to your social media channels, or by emailing the link to your friends and family. Just copy and paste this link: https://tinyurl.com/Quilts1

Thank you!

Donation Amounts

$1 for 1 Ticket
$5 for 6 tickets
$10 for 15 tickets
$20 for 35 tickets
$50 for 100 tickets
$100 for 300 tickets
To make a tax deductible donation:
1. Credit or debit card on the Weinsteins' donation page: Harvest Alliance International.
2. Check to: Harvest Alliance International and mail to The Weinsteins 1575 Country Club Dr, Riverside CA 92506.
Other donation methods (tax deductible receipt not available):
3. PayPal: Send donation to mrsweinstein@fastmail.fm (Please use friends option)
4. Check (made to Yvonne Weinstein) or cash. Mail or deliver to Weinsteins, 1575 Country Club Dr, Riverside CA 92506.
For all donations: please email the Weinsteins (yvonne@theweinsteins.org) to let us know how much you have donated

and how many tickets you would like.


Two tickets will be drawn during the Raincross Quilt Guild Meeting live on April 20th, 2021 at 6:45 p.m.
If you are not a member of the guild and would like to watch the drawing live, ask to be a FaceBook friend of the Weinsteins2Uganda page. We will have a Facebook like at 6:45. Ticket holders will also be notified by phone/email and arrangements made to deliver your quilt.


Large Quilt is 72" by 90"
The top stitching on the white lattice work is exquisite.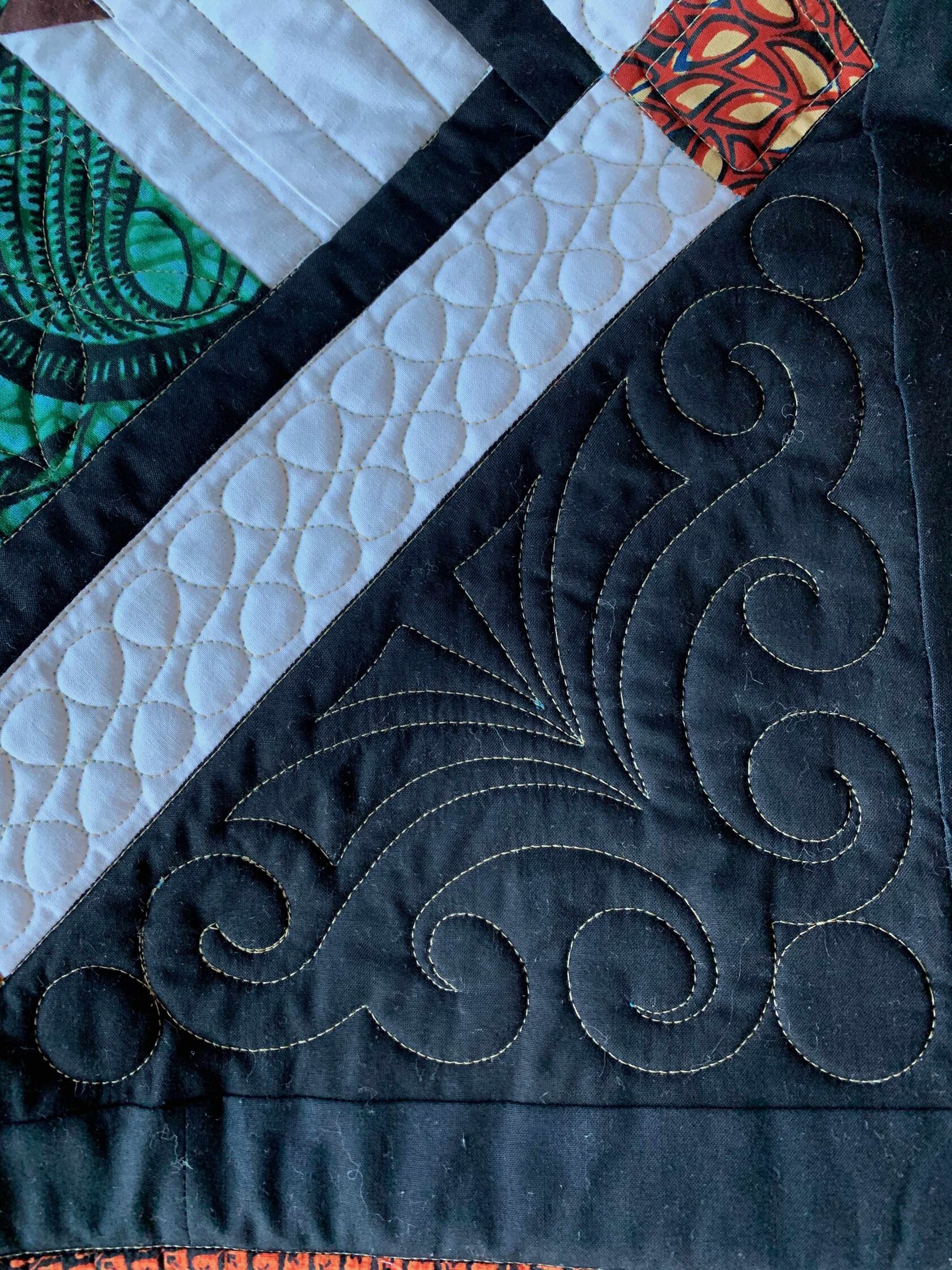 Small Quilt is 52" by 69"
Notice the beautiful "piano key" border and details of the top stitching.